Borrowers are turning to digital lenders — and abandoning banks
More and more people are turning to companies like Quicken Loans and LoanDepot for their mortgages
BYJIM DALRYMPLE II JAN 18
Americans are increasingly forgoing traditional banks when taking out home loans, pushing mortgage revenue down for big name lenders but offering a boon to unconventional, tech-enabled companies.
The trend toward non-bank lenders — or in other words, companies like Quicken Loans or loanDepot — was documented in a recent report from the Urban Institute. The report shows that since 2013 the non-bank share of loan originations has been steadily rising. By November 2018, non-banks had claimed 58 percent of the market, or nearly double what they had five years prior.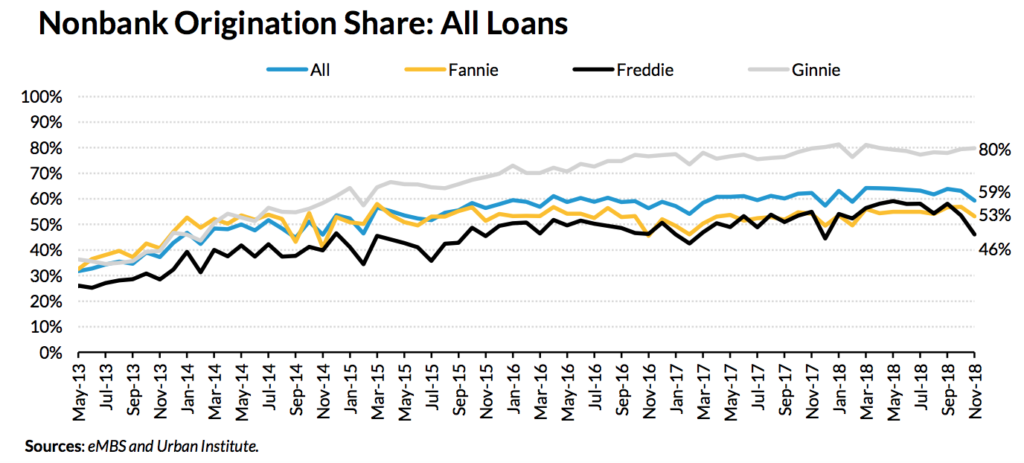 Credit: Urban Institute
Earnings reports from a number of major banks, all published this week, tell a similar story. On Monday, CitiGroup reported that revenue from mortgage originations fell 23 percent in the third quarter of 2018 compared to the same time period in 2017.
On Tuesday, JP Morgan Chase revealed that its net home lending revenue was down 8 percent last quarter compared to a year prior.
And also on Tuesday, Wells Fargo reported that income from mortgage banking fell calamitously last year, going from $928 million at the end of 2017 to a mere $467 million at the end of 2018 — a reduction of nearly 50 percent.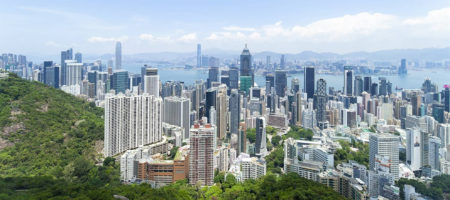 The latest trends in luxury and how they impact real estate How consumer trends in personal luxury goods open up new possibilities for luxury real estate READ MORE

At least one of these banks appears to believe the decline in revenue is related to the growth of non-bank lenders. In her earnings call this week, JPMorgan CFO Marianne Lake said revenue from mortgages was down thanks to "lower net production revenue in a low volume highly competitive environment."

When asked what Lake meant by the comment, a company spokesperson speculated to Inman that the "competition" was a reference to companies like Quicken Loans. Such companies focus exclusively on lending, as opposed to the plethora of services offered by most banks, and are often more nimble as a result.

So what's going on? Why are people turning away from banks — which have long dominated the industry — to techie startups?





In a conversation with Inman this week, Quicken Loans President and Chief Operating Officer Bob Walters postulated that the shift has to do with home buyers becoming increasingly comfortable with technology.

"Now consumers expect online experiences," he said. "They not only expect it but are also very comfortable with things that 10 or 15 years ago they wouldn't have been as comfortable with."

Those changing preference have helped made Quicken Loans the largest single mortgage lender in the U.S., and Walters — further supporting the Urban Institute data — said that his company's share of the mortgage origination industry has "increased dramatically" over the last decade.


Quicken Loans, which was founded as Rock Financial way back in 1985, isn't alone.

Perhaps most notably, loanDepot founded in 2010, claims to have lent more than $150 billion during its lifetime. The company — which didn't respond to a request for comment — appears to view Quicken Loans as its chief rival, with CEO Anthony Hsieh saying last year that the two companies could "easily" grow their share of the consumer lending market from less than 10 percent to "20 to 25 percent."

That's an ambitious projection, but the recent data and earnings reports suggests the winds of change are at the backs of the non-bank lenders, most of whom offer some variation of an online loan application process. At Quicken Loans, for example, users begin their application by answering a series of questions using a simple interface on the company's website.

An image showing part of Quicken Loans user interface. Credit: Quicken Loans

The company also automates many steps of the process, such as pulling tax information, which Walters said saves consumers time and effort. He compared Quicken Loan's process to the experience consumers go through to get a loan from a bank, which can involve showing up in person, spending a long time filling out forms, and waiting weeks for everything to be approved.

For Walters, the comparison highlights one of the reasons lenders like Quicken Loans are gobbling up market share from banks, some of which he said might have trouble innovating due to their massive size and wide-ranging interests. And in the future, he believes a faster, more convenient experience will be in even greater demand.

"People have really transitioned the way they interact," he added. "They just have no desire to go through the old way of doing things."

Article image credited to Sergei Aleshin | Shutterstock.com EMAIL SHARING:SHARE ON SOCIAL: